Fountain Grass (
Cenchrus setaceus/Pennisetum setaceum

)

Fountaingrass is an African perennial bunchgrass that can grow up to 4 ft tall and 3 ft wide at the base. Its handsome upright growth, feathery long-lasting spike flowers and tolerance to both hot and cool temperatures have made it a popular landscape plant around the world, including the USA. With sufficient moisture and warm temperatures, it can flower most of the year, and it thrives at elevations from the Sonoran Desert floor to around 4500 feet in Arizona. The cylindrical flowers are 4 to 14 in long, round in cross-section, pink or purplish during colder weather, and turn white when dry.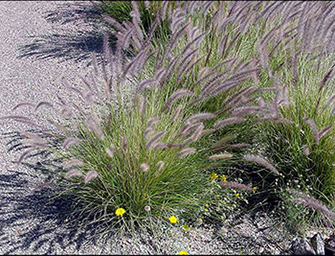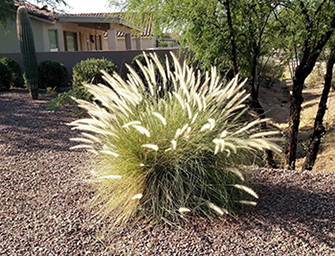 Photo left: Mark Dimmitt — Photo right: John Scheuring
Why is it a threat?
Fountaingrass has been planted along roadsides, and in golf courses and neighborhoods. It spreads copious amounts of seed by wind, hikers, and traffic. In neighborhoods, fountaingrass spreads into drainage areas, alleys, and roadsides. In rights-of-way fountaingrass seeds are carried by vehicles to extend the spread of the grass further along road banks into arroyos. In golf resorts, fountaingrass readily spreads into adjacent wild desert slopes and canyons. By 2010, fountaingrass had spread far up the riparian canyons of the Tonto National Forest and into public lands in the Santa Catalina and Rincon Mountains in Pima and Pinal Counties, displacing native flora and disrupting bird and amphibian habitat.
Fountaingrass increases fuel availability in wildlands, which increases the intensity and size of wildfires, threatening native desert species. Fountaingrass can grow up very steep canyon slopes where not even buffelgrass reaches, posing a serious fire threat to the critical riparian habitat in scenic mountain canyons.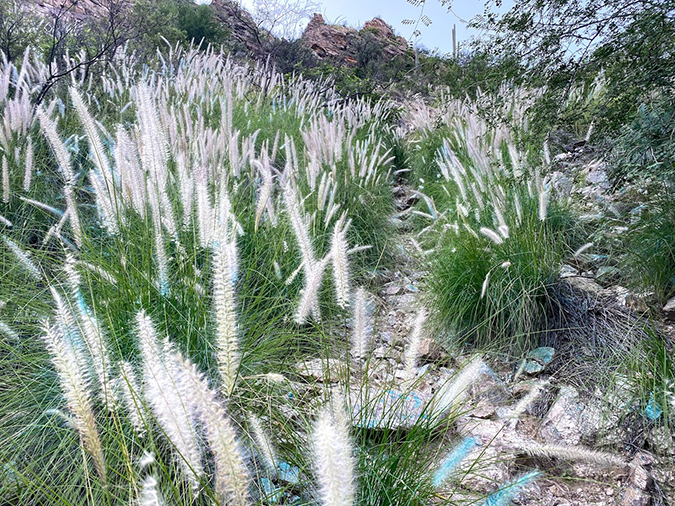 Photo: Vianey Avila
Control
Small infestations of fountaingrass can be controlled in residential areas by digging up the entire plant, making sure to remove all the crown tissue from where the stems grow. It may be necessary to return to infested areas for several years to remove seedlings. Directed spot spraying of green plants and seedlings with an herbicide containing glyphosate is the most effective way to control large stands of fountaingrass along roadsides, arroyos, rocky slopes, and riparian areas. Aquatic compatible glyphosate must be used in riparian and aquatic habitat.
Distribution
Fountaingrass has been widely cultivated as an ornamental around the world and often escapes into natural habitats. In the United States, it is common in southern Arizona, southern California, southern Nevada, southwestern Utah, and Hawaii. It has also been found in Florida, Louisiana, Tennessee, Oregon, Colorado, and Texas.
History
Fountaingrass was first reported in Arizona in 1941 on the Soil Conservation Service farm in Tucson where it was being evaluated as a range grass. Already in the 1940s it was reported growing along the Catalina Mountain highway. Fountaingrass was planted along some Arizona rights-of-way from the 1960s to the 1990s. During the period of the 1980 to around 2005, it was planted extensively in golf resorts in Phoenix and Tucson and surrounding communities. During that same period, it also became a popular landscape plant sold by nurseries.
Native Alternatives?
In 2020, Fountaingrass was listed as a Noxious Weed by the State of Arizona. This prohibits its sale or importation into the state. There are several native grasses and grass-like succulents that can be used in urban landscapes in the place of fountaingrass. Excellent native grasses include Deergrass (Muhlenbergia rigens) and Muhly grass (Muhlenbergia capillaris). Beargrass (Nolina microcarpa) and desert spoon/sotol (Dasylirion wheeleri) are native succulents that grow in large clumps that are attractive in desert gardens and road medians. Another interesting alternative is desert milkweed (Asclepias subulata). Its attractive, upright form and low water use make it a xeriscape favorite.
Questions and comments can be addressed to [email protected]
Links
References
Arizona Native Plant Society. 2021. Fountaingrass: A popular landscape plant but a dangerous invasive weed.
[English]. [Spanish].
Tellman, Barbara (ed.) 2002. Invasive Exotic Species in the Sonoran Desert. University of Arizona Press.
Prepared by John Scheuring, Conservation Director of the Arizona Native Plant Society