Pima Canyon
Collaboration between the Arizona-Sonora Desert Museum and the U.S. Forest Service.
In 2018, the Arizona-Sonora Desert Museum (ASDM) received a grant from the National Forest Foundation to reach out to the community around Pima Canyon about the dangers of buffelgrass, to start a volunteer buffelgrass control group, and to hire youth crews to come out after the rains to help us battle this invasive plant. From October 2017 through May 2018 the ASDM team met in Pima Canyon twice a month to dig out buffelgrass through the morning hours. To dig out buffelgrass the team paired up into groups of two and one person would hike out with a 20 lb. digging bar while the other carried a rock hammer. The buffelgrass was quite dense in most areas that the team worked and the digging bar was the tool of choice. It is important to get this bunchgrass out by the roots so one person would hold the grass by the top, pulling it out of the way while the other person would use the bar to pry out the grass. We would shake the remaining soil out of the roots and then stack the grass in a lattice formation to limit the spread of the seeds and subsequent sprouting.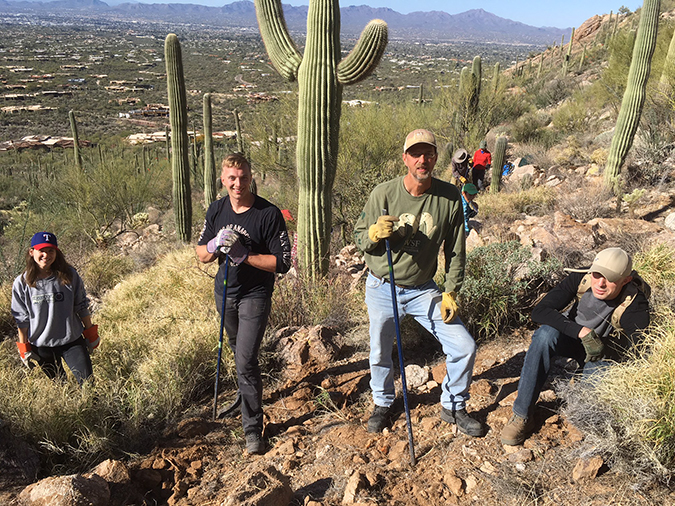 Volunteers digging buffelgrass in Pima Canyon.
Photo: Julia Rowe
In the heat of summer, ASDM hired a 7 person American Conservation Experience (ACE) crew to come out to spray buffelgrass. Between summer storms and access issues, they were able to spray almost 25 acres of buffelgrass. They also pulled on steep slopes too treacherous for backpack sprayers.
Currently, the U.S. Forest service has had a crew spray 135 acres and contracted for 178 more in the next treatment. The current crew is utilizing mules to bring the chemical and water into the canyon.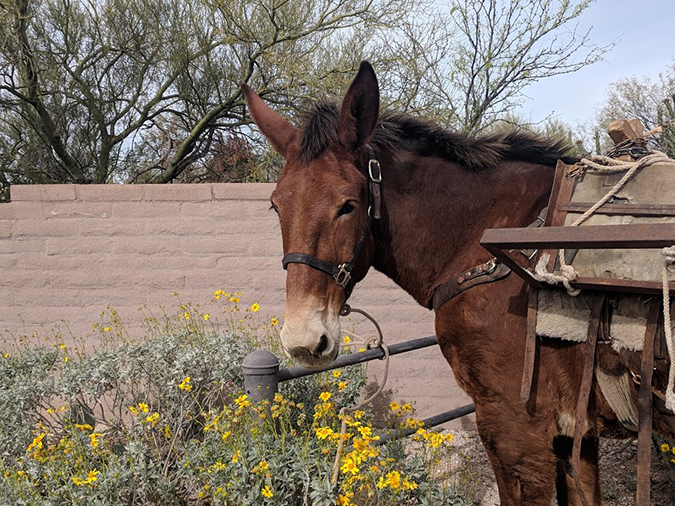 Mules were used by recent contractors in Pima Canyon to carry water back into the canyon to facilitate spraying buffelgrass with herbicide.
Photo: Julia Rowe